To launch our new blog, please enjoy the following post about how to "Take Hold Of Your Wealth". Starting today, we will post a new blog entry on the First & Third Wednesday of every month, and please feel free to contact us if there is a specific topic that you would like to see discussed.
It is our goal to create content in this blog that pertains to everyone, whether you're an investor, financial planner, or someone whose experience with the financial industry is limited to hearing snippets of news about the seemingly cryptic stock market. If you have any questions or thoughts pertaining to anything written here, we encourage you to leave a comment on either the blog or facebook, and we'll look forward to further discussing each matter.
~Rich Schuette, CFP®
Your Wealth Begins With Your Vision
When I tell people I am a Wealth Manager, the expectation is that I manage money.  While that is a core part of my job, I also spend considerable amounts of time managing my clients' visions.  Without understanding the driving force behind each client's need for money, it is impossible to know if we are accomplishing the task at hand.  It is not enough to create a portfolio and then explain how smart I am because of the results (no matter what they are!)  Understanding this led me to create my own vision, ultimately allowing me to unlock potential in myself, my business, my life and my money that previously did not exist.
By taking a step back, we can see that wealth is comprised of much more than our monetary treasures.  When I took the time to define my own personal vision, it became clear to me that wealth is really as much about values, relationships, passions, talents and time, as it is money.
A vision can explain a lot about how you work with your time, talent and treasure.  By taking the time to clearly craft your personal vision, you will progress further in your pursuit of wealth than you can imagine. Understanding your personal motivations changes everything. A vision needs to be clear, concise and meaningful to you; it must be something that you own at your core.
My vision is: "I strive to make a meaningful difference in the life of every person I touch".  That can take the form of being home for dinner, or putting my daughters to sleep. It could be helping those in my business community establish deeper connections in our town, or freely sharing ideas with my peers and colleagues. It could come from giving freely of my time and money to causes I hold dear.  It can even mean smiling at a passer-by or a clerk at the store.  As I have been true to my vision I have had more impact in business, and in turn I've created a higher quality of life at home and in the relationships that I value.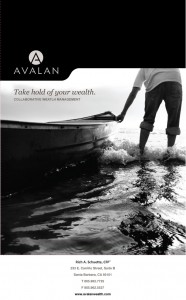 That is true wealth. But I acquired that only after I shifted my focus to the core of what is truly important to me.
If we only make decisions based on risk and reward then we lose sight of what's most important. That path will never lead us to the realization of our vision; rather it will lead us to simply go through the motions. Money, which we often consider to be wealth, is secondary and meaningless until we have a vision that defines what it means to us and where we want to go with it. What is your vision? Is it family?  Prestige? Power? Freedom? What does money mean to you?  What is your vision?  State it and you will finally "Take Hold of Your Wealth".